Hardware/Software Codesign (2V, 1U)
Part of Master's Program Computer Science and Computer Engineering
Lecture number: L.079.05802
Term Summer term 2017
Lecturers Prof. Dr. Christian Plessl, Dr. Tobias Kenter
Contact Office: O2.167, Email: christian.plessl@uni-paderborn.de, Tel: 05251-605399
Goals and Contents of the Lecture
Hardware/Software Codesign denotes the integrated and automated design of hardware and software in computer systems, in particular embedded systems. Virtually any state of the art embedded system, e.g. mobile phone, game console, or automotive and industrial control system, comprises cooperating hard and software components. Driven by the demand for new functionalities and the rapid progress in the area of microelectronics these systems become increasingly complex. Hence the use of computer aided design methods is not only necessary to deal with the complexity of these systems, but also to reduce design cost and time.
The goal of this course in Hardware/Software Codesign is to introduce the fundamental problems in the automated design of complex computer systems and to present the most important methods for modeling and solving these problems. More detailed information on the contents and organization of the lecture will be published on this webpage. If you have any questions, feel free to contact Prof. Plessl.
Schedule and Materials
The course will be held weekly on Mondays in room O1.258 from 13:15-14:45 and 15:00-15:45. The exercises will be integrated within the lecture.
The current schedule is presented in the table below, which is constantly updated.
Lectures taught by Christian Plessl are marked with CP, lectures taught by Tobias Kenter are marked with TK.
Lecture schedule Hardware/Software Codesign SS2017
Date
Contents
Lecturer
Materials
Exercises
April 24, 2017

Introduction, lecture organization

CP
May 1, 2017

Public holiday, no lecture

May 8, 2017
CP
May 15, 2017

Target Architectures (cntd.)

TK
May 22, 2017

Target Architectures (cntd.)

CP
May 29, 2017

Introduction to Compilers

CP
June 5, 2017
Public holiday, no lecture
June 12, 2017

Introduction to the LLVM Compiler Framework
Architecture Synthesis

TK
June 19, 2017

Architecture Synthesis (cntd.)

TK
June 26, 2017

Architecture Synthesis (cntd.)
System Partitioning

TK
July 3, 2017

System Partitioning (cntd.)

TK
July 10, 2017

Discussion Programming Exercise 1
System Partitioning (cntd.)

TK
July 17, 2017

Design Space Exploration
Estimation

CP
July 24, 2017

Case Study
Closing Session

CP
Exercises
The exercise sheets can be downloaded from the website. However, instead of discussing the exercises in a separate exercise event, I will integrate them into the regular lecture. The solutions of the exercises will be discussed in class, there will be no reference solutions in written form available.
Exam
Depending on your situation (study program) there are two kinds of exams in HW/SW Codesign: 1) Examination as an Individual exam (Einzelprüfung) or 2) examination as a Module exam. Please schedule your exam as early as possible by sending an email to my secretary Mrs. Michaela Kemper.
Literature
This lecture has been designed to be widely self-contained. Hence you should be able to follow the lecture by studying the lecture notes (slides) only. If you would to dive deeper into a particular topic, you may refer to the following literature on which the lecture is based.
Books
P. Schaumont. A Practical Introduction to Hardware/Software Codesign. Springer, 2010. doi:10.1007/978-1-4419-6000-9
J. Teich and C. Haubelt. Digitale Hardware/Software-Systeme. Synthese und Optimierung. Springer, Berlin Heidelberg New York, 2nd edition, 2007. doi:10.1007/978-3-642-05356-6_1
G. De Micheli. Synthesis and Optimization of Digital Circuits. McGraw-Hill, 1994.
Articles
B. W. Kernighan, and S. Lin. An efficient heuristic procedure for partitioning graphs. Bell Systems Technical Journal, 49:291–307, 1970.
T. Kenter, M. Platzner, C. Plessl, and M. Kauschke. Performance estimation framework for automated exploration of CPU-accelerator architectures. In Proc. Int. Symp. on Field-Programmable Gate Arrays (FPGA), pages 177–180, New York, NY, USA, Feb. 2011. doi:10.1145/1950413.1950448
Contact
High-Performance IT Systems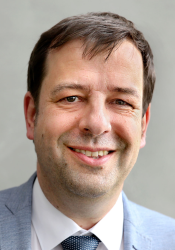 Office hours:
In winter semester 2019/2020 the speaking lesson for students is Tuesday from 2pm to 3pm
High-Performance IT Systems